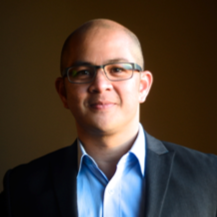 Adrian Robles is a former Head of People & Leadership Development in Meralco and the Immediate Past President of the Philippine Society for Training and Development. He recently obtained his masters degree in Human Resources and Industrial Relations from the University of Sydney under the Australia Awards Scholarship program, and was among the 12 Filipino recipients of the Australia Awards Leadership in 2013. This July, he completed a summer course on Globalization 3.0 – Production & Consumption held in Prague, Czech Republic, participated by select professionals and students from top international universities.
He has an undergraduate degree in Psychology from the Far Eastern University and masters credits in Industrial/ Organizational Psychology from De La Salle University. His professional career spans 19 years in the areas of Organizational Development, Human Resources Development and Management, Talent Management, and Performance Consulting.
His professional experience includes various management-level positions in several large companies in the Philippines such as MERALCO, GMA 7, and Wyeth Philippines.
In 2009-10, he was contracted by a Spain-based management consulting firm to be an expat Senior HR & OD consultant for the Vietnam Electric Company (EVN) in Hanoi – traveling across Vietnam training the HR heads of EVN and its subsidiaries on the different facets of human resource management. He has also served as an external consultant for the Bureau of Internal Revenue and Bureau of Treasury.
Adrian is also an accomplished speaker and trainer for various corporate and academic institutions where he makes full use of his expertise in conversation tools such as Appreciative Inquiry, Open Space Technology and the World Cafe methods.
Sales and Marketing,
Coaching and Mentoring
Leadership and Talent Development
Personal Mastery and Productivity
Presentation skills
Certified Training Professional
Member, Philippine Society for Training and Development
Member, Asia Speakers
Member, Toastmasters International