Carrying out the processes of coaching and mentoring provides an excellent opportunity for managers and employees to identify developmental needs.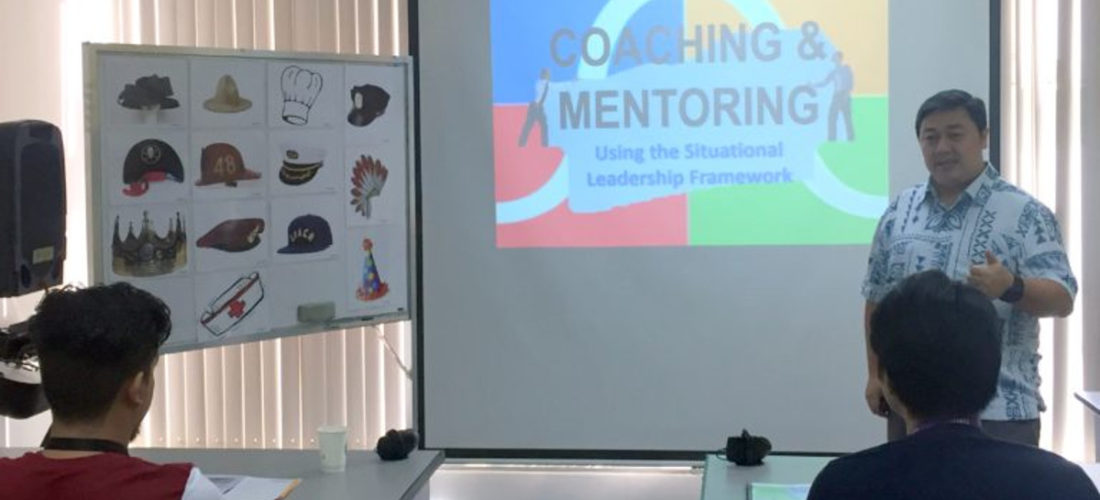 In an effective organization, employee developmental needs are addressed. Developing in this instance means increasing the capacity to perform through coaching and mentoring, giving assignments that introduce new skills or higher level of responsibility, improving work processes or other methods. Providing employees with training and developmental opportunities encourages good performance, strengthens job-related skills and competencies, and helps employees keep up with changes in the workplace, such as introduction of new processes or technology.
Carrying out the processes of coaching and mentoring provides an excellent opportunity for managers and employees to identify developmental needs. While planning and monitoring work, deficiencies in performance become evident and coach and team member are able to address them. Areas for further enhancing already good performance also stand out, and action can be taken to help successful employees improve even further.
This Coaching and Mentoring Training aims to equip managers and supervisors with the right information and skills to help bring out the best in their employees. The learning will be made intensive by utilizing learning games, case, studies and role plays. In order to ensure application of the knowledge and development of skills, the program includes a post-workshop project that will require them to identify a target person or teams to apply what they learned in the workshop. They will be required to submit a report detailing the applications of the tactics and the results. This tactic will show participants that all the techniques shared in the program are doable and helpful in building employee skills and work attitude.
Workshop Objectives
At the end of the training, the participants are expected to be able to:
Identify the basic processes behind coaching & mentoring
Describe how to introduce coaching & mentoring into the organization
Apply various tactics in Coaching and Mentoring using the Situational Leadership Framework
Describe the nature of the relationships that must be managed in order to sustain coaching and mentoring
Time

Activities

Activity Objectives

DAY 1
9:00am-10:00am

Introduction

Ice Breaker: Leaders Wear Many Hats
Leveling of Expectation
Overview of the Coaching and Mentoring Framework

Know the administrative details of the workshop
Level expectations
Appreciate the concept of situational leadership

10:15am-12:00pm

Module 1: Diagnosis

Assessing an individual's competence and commitment levels to determine how to build motivation, confidence and productivity
Understanding the need for a specific coaching style based
on the individual's needs in any given situation

Describe the steps involved in diagnosing employees' developmental level and matching it with the appropriate coaching style/s

1:00pm-2:00pm

Module 2: Overview of the 4 Coaching Styles

Becoming comfortable with a variety of coaching/mentoring styles

Directing/ Structuring
Directive Coaching
Supporting
Delegating

Matching your style with your people's and situation's need

Identify techniques for applying the four leadership styles in coaching

2:00pm-3:00pm

Module 3: Directing/ Structuring

Previewing the task
Demonstrating it
Letting the person perform it with help
Letting the person perform it without help
Role Play

Describe steps in directing employees to learn a task

3:15pm-5:00pm

Module 4: Directive Coaching

Positioning the discussion
The constructive feedback
Role Play

Describe the directive coaching tactic

DAY 2
9:00am-9:30am

Recap

Recap of Previous Session's Learning

Connect day one and day two learning experience

9:30am-11:00am

Module 5: Supporting

Coaching Pitfalls to avoid
Planning Your Coaching Activity
The GROW Model
Role Play

Describe steps in non-directive coaching

11:00am-12:00pm

Module 6: Delegating

Delegating Responsibility, Authority and Accountability
Building Trust, Competence and Confidence
Role Play

Identify elements needed in successful delegation

1:00pm-3:00pm

Module 7: Partnering for Performance Through Coaching and Mentoring

Role clarification
Defining mentoring objectives
Outlining your activities
Establishing success measures
Facilitating mentoring meetings/discussions
Evaluating progress and effectiveness

Describe the relationship that must be built to get from directing to delegating

3:30pm-5:00pm

Module 8: Re-Entry Action Planning

Developing a Coaching Plan for current employees

Identify projects to apply and practice the coaching skills in the workplace.