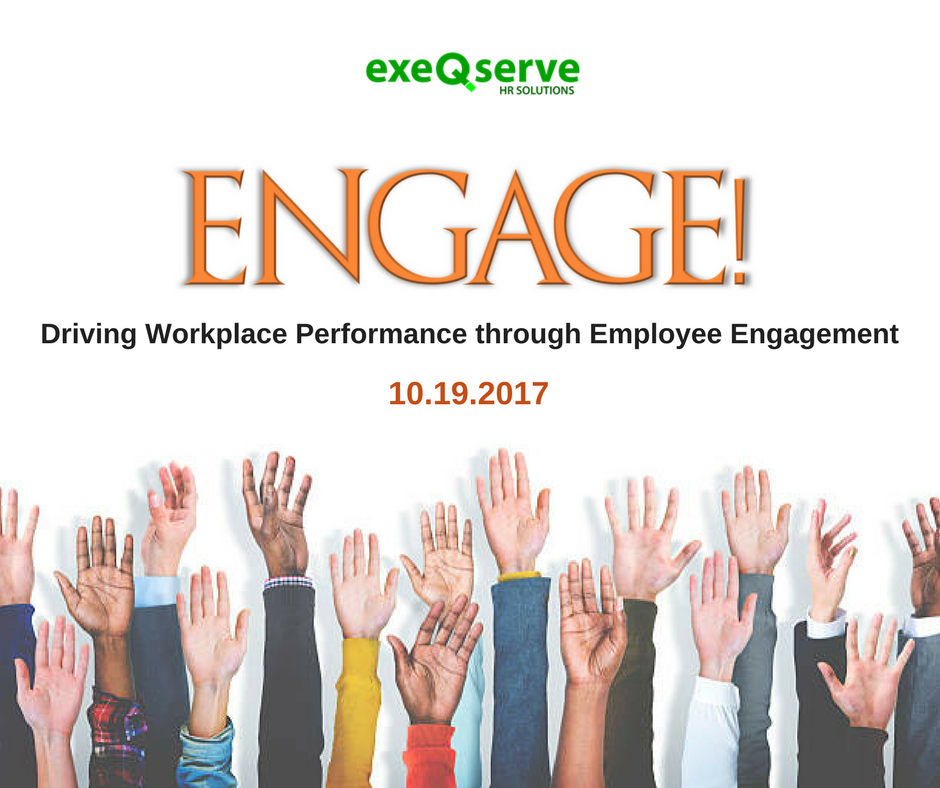 Calling all HR Managers, Training & Development Managers, Organizational Development Managers, Talent Managers, Supervisors, Team Leaders, Department Heads, Business Leaders. ExeQserve invites you to attend this 1-day Employee Engagement learning event on October 19, 2017 which will be facilitated by Beng Ang Cortes. The seminar will be held at BSA Twin Towers at Ortigas, Pasig.
Engage! Driving Workplace Performance through Employee Engagement is 1-day public seminar on the effective utilization of employee engagement in boosting performance in the workplace. Employee engagement is not just a recent HR fad or buzz word. If there is one management practice that is predicted to be one of the most important drivers for business success in the 21st century, it is employee engagement.
There has been a multitude of extensive research and studies on why Employee Engagement is important but HR practitioners and business leaders are perplexed that despite Happy Fridays and other gimmicks instituted in the workplace, people are still disengaged and are clawing their way to performance and productivity. They fail to understand the broader concept of what get employees engaged and what truly matter. This workshop will provide participants with the right skills and tools to increase employee engagement.
Key Learning Outcomes:
By the end of this highly interactive 1-day workshop, participants will be able to:
• Understand background and contexts for Employee Engagement
• Define what Employee Engagement is
• Learn and identify the drivers of Engagement based on and drawing from latest researches and studies
• Identify your own drivers and that of your team's
• Know your Strengths and how to optimize their use to increase your level of engagement
• Create a clear pathway to increasing your own engagement and that of the organization
The seminar will be held at BSA Twin Towers, Ortigas, Pasig City, Philippines 
on October 19, 2017 from 8:00 AM to 5:00 PM (GMT+8) and will be facilitated by one of ExeQserve's talented and highly experienced consultant: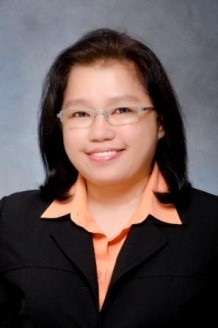 Beng Ang Cortes is a highly experienced HR professional with both generalist and specialist experiences, gained from mostly MNCs over the last 20+ years. Her last 10 years was spent as a Regional Head for Talent & Leadership Development Asia/MEA based as an expat in Singapore. Her regional stint has allowed her to work both at strategic and operational levels with different cultures and countries across the Asia/MEA Region. Most notably, she created an HR brand "Fresh Thinking" that turned Learning and Development in her organization at the forefront of business strategy. She has worked with a variety of people leaders in developing and implementing the organization's talent management strategy. In 2011, she was a finalist to HRM Singapore HR Leader Award. She left the corporate world in January 2017 to pursue her passion as an independent consultant and fulfill her vision of creating world-class learning and development academy bringing the latest thinking and practices in people and organizational development. Learn more about Beng.
EMPLOYEE ENGAGEMENT WORKSHOP OUTLINE
Morning
Introductions
Business Case for Engagement
What is Engagement
3 Kinds of Employees

Where are you? A quick self-assessment
Where's Your Team At?

Exercise 1: Peaks and Valleys

Identify your team's best moments
Concept of Flow
How to we replicate our moments of flow?

The Engagement Eco-System and Your role as Manager
Introduction to the six Drivers of Engagement based on

Dan Pink's Motivation 3.0
Tom Rath's "Fully Charged"

Driver 1: Meaning and Purpose

Case studies
Exercise 2: How do you create meaning and purpose at work?

Driver 2: Mastery and Growth

Growth and Fixed Mindset
The Case for Strengths
Exercise 3: Identifying Your Own Strengths (Card Sort Exercise)

Creating a Group Composite

Identifying your Team's Strengths
Afternoon
Ice breaker
Driver 3: Autonomy & Empowerment

Conditions for Autonomy
Strategies to Empower Your Teams

Driver 4: Connection & Interactions

Exercise 4: It is about Teams / Check the Quality of Relationships
Mastering Moments
Onboarding employees off to a Good Start

Driver 5: Rewards and Recognition

It's not about the Money
Best Practices
Exercise 5: Top Tips

Driver 6: Balance and Energy

A Case for Wellbeing
Exercise 6: Top Tips

The Progress Principle and a toolkit for Managers
Final Exercise: Putting them Together:  Find & Know Your Engagement Driver (Card Sort Exercise)

Individual
Group Composite / Sharing

Leveraging HR / People processes to increase Engagement: Creating Your Own Touchpoints
Creating Engagement Roadmap for Organizations
Manager Action Planning (Use Engagement Driver Cards)
Summary and recap / Commitments
Who should attend?
HR Managers, Training & Development Managers, Organizational Development Managers, Talent Managers, Supervisors, Team Leaders, Department Heads, Business Leaders
Limited slots only! Register now for Php 5,000+ VAT only!
Learn more about ExeQserve